MAC Unveils the Highly Anticipated Isuzu V-CROSS and mu-X.
The event, held at the Kololo, Airstrip on the 15th-16th of July 2023, attracted car enthusiasts, industry professionals and the public from across the region.
MAC East Africa made waves at the prestigious Kampala Auto Show by launching two exceptional vehicles from its latest Isuzu's 7th Generation – the Isuzu V-cross and mu-X.
The Isuzu V-CROSS pickup is equipped with cutting-edge features and unmatched performance, and its set to revolutionize the pickup truck market.
Designed to exceed expectations, the Isuzu V-CROSS boasts its bigger engine of 3000cc and extra strong tailgate delivering impressive power and torque for all your driving needs.
Additionally, its spacious and comfortable cabin ensures a smooth and enjoyable ride, making it the perfect choice for both work and adventurous activities.
Isuzu also introduced the All-New mu-X SUV: The Empress of Power, luxury, and Performance.
Boasting a sleek and modern exterior, the mu-X is sure to turn heads on the road designed to exceed expectations and redefine the standards of excellence in its class. Its spacious and comfortable interior is equipped with state-of-the-art technology and premium features, providing a truly immersive driving experience.
With its powerful engine and advanced safety features, the mu-X ensures both performance and peace of mind for drivers and passengers alike, making it a top choice for SUV enthusiasts.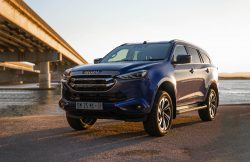 With a commitment to delivering exceptional performance, durability, and style, MAC's introduction of this bold new age of the Isuzu cars will revolutionize the automotive industry.
MAC East Africa's dedication to excellence is evident in every aspect of these vehicles, making them a top choice for discerning drivers seeking both reliability and sophistication on the road.